Healthier Together: Trusted NHS Advice Parents and Caregivers in the North East
Healthier Together is an NHS website and smartphone app designed specifically for parents and caregivers in the North East and North Cumbria.
The aim is to improve the health of babies, children and young people with advice, helpful resources and information directly from healthcare professionals.
The Website
The Healthier Together website, found at nenc-healthiertogether.nhs.uk, has practical help and advice on everyday issues, like if your child has a cough or how to tell between a sore throat and tonsillitis.

Parents and caregivers can find answers to the question 'Should my child go to school or nursery today?' by looking at the specific guidance for a range of common childhood illnesses and ailments.
There are also resources to support children in the longer-term, such as maintaining their emotional wellbeing, or if you have concerns or questions about your child's development.
The most popular topics will be displayed at the top of the page, underneath the search functions and links to download the Healthier Together app.
The App
The Healthier Together app is available to download for free from both the App Store (ios) and Google Play (Android).
The app is very directional and designed to give parents and caregivers advice on managing their child's health at that particular time. It is intended to reduce worry and anxiety about making the right choices for children and avoid unnecessary trips to the GP or Accident and Emergency.
On first use, the app will guide users through what it can help with, how to spot 'red flag' symptoms, and how to access the most common forms of care and support.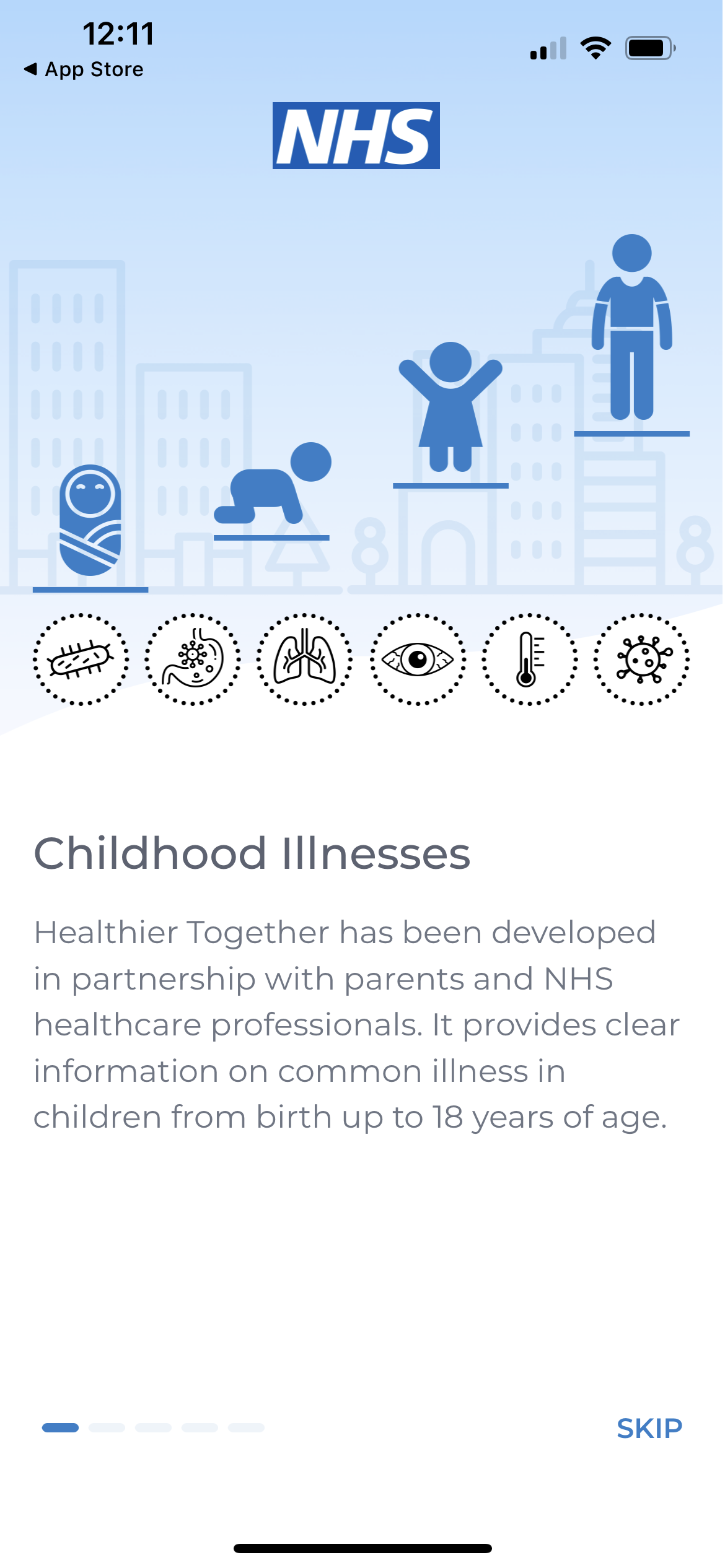 Parents or caregivers can create a profile within the app for each child they look after, including their age, gender and the GP they are registered with.
When looking for help, you can choose the profile of the unwell child and select from some easy-to-use options about their condition and symptoms. The app will check for any 'red 'flag' issues that require emergency treatment and then, based on your answers, gives clear answers to your best course of action.
The app is free to download and use. All data entered into the app is encrypted and stored locally on your device and cannot be accessed by third parties.