Here to help this Christmas
For many reasons, the festive period can be difficult for lots of people.
Whether we are experiencing loneliness, or isolation, limited by our physical or mental health, a time of year that is supposed to bring joy can be tough.
We wanted to offer some ideas, practical tips and support to people who may need it or are worried about friends, family, or neighbours.
Make time to check in
If you have a frail or elderly neighbour, check in on them. The current weather conditions can make it even more hazardous for people with limited mobility to get out. So checking that they have the necessary supplies and medication can be a big help.
It's also an excellent opportunity to check they can keep safe and warm at home and to let them know you are thinking of them.
Suppose you are worried about someone and feel they would benefit from professional support. In that case, you can contact Age UK.
Start a Conversation
It's a myth that more people commit suicide at Christmas, but that doesn't mean it is something we should ignore.
Suicide disproportionately affects men – 3 in every four are male – and it is the biggest cause of death in men under 50.
We know that strong social bonds can reduce the risk of suicide, so don't be afraid to start a conversation. It can save a life.
There is some helpful advice about spotting the signs in our previous 'Movember' post.
Combatting Loneliness
We want to highlight three opportunities for people who may be expecting to spend the festive period alone.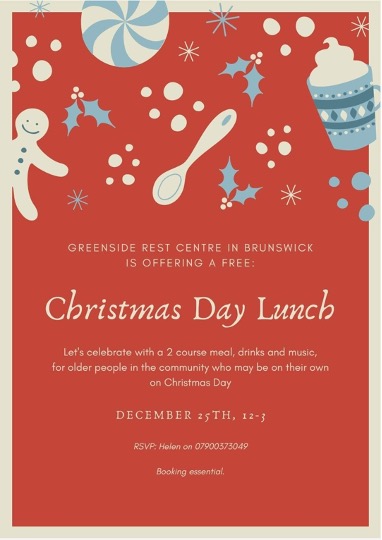 The first is a free Christmas lunch for older people who will be on their own on the 25th.
It's being hosted at Greenside Rest Centre in Brunswick in collaboration with Chain Reaction and Mental Health Concern.
Booking is essential, and anyone interested can contact Helen on 07900373049.
The second event is a Christmas Day walk organised by WoeMan, a mental health group.
The route will cover around 5k through Heaton Park and Jesmond Dene. It will give people struggling with the loneliness – or busyness – of Christmas the chance to take some time for themselves in a safe, supportive environment.
You can find full information and meeting times on the WoeMan Facebook page.
Finally, is the new Winter Wellbeing hubs that Newcastle city council have set up around the city.
The aim is to provide warmth, a warm welcome, and a chance for people to come together and socialise or learn new skills over a hot drink.
Venues range from shops and businesses to community and faith centres. Visit Newcastle.gov.uk to find your nearest wellbeing hub.
Crisis at Christmas
Crisis Skylight Services has partnered with Gateshead College this year to deliver its Crisis @ Christmas Project. This includes a sit down meal on the 24th December. Each person who attends will receive a Christmas Hamper. There will be entertainment, advice and support on site. Mini buses are available for transport to and from the event (booking required). This is for skylight members only but if you have anyone who you think would benefit from this service then please call the to see if there's space available.
If you know anyone who is homeless or at risk of homelessness this year who would benefit from attending the event, please ring Crisis Skylight Newcastle on to book a place or delivery 0191 222 0622.
Christmas Eve 24th December – Festive Christmas Dinner with all the trimmings, plus tasty alternatives. Live music and bingo. Location: Gateshead College Address: Gateshead College, Baltic Campus, NE8 3BE Support with travel is available 11am to 4pm
Christmas Day 25th December – Hot Meal & Gift Hamper Deliveries Delivered direct to you 11am to 3pm
Crisis Skylight opening times:
Closed 26th and 27th December
Open 28th, 29th and 30th December 10am to 2pm for Engagement and Assessment drop in and festive activities
Closed 31st December, 1st and 2nd January 2023
Open 3rd January for normal service
Support and Helplines
Many organisations offer helplines, text support and online help for mental health and other conditions or circumstances where people may need support.
Samaritans
Call 116 123
Visit samaritans.org
Text 'SHOUT' to 85258
Tyneside Mind Support Line
Call 0191 477 4545 (8am to 10pm)
Visit tynesidemind.org.uk
Newcastle Crisis Team
Call 0191 814 8899 (24/7)
Call 0800 652 2863 (freephone)
Text 07919 228 548 (for people who are deaf/have communications difficulties)
Newcastle Carers
Call 0191 275 5060 (10am to 4pm)
Visit newcastlecarers.org.uk
North East Council on Addictions
Call 0191 222 1262
Visit neca.co.uk
No Panic
Call 0300 772 9844 (helpline)
Call 0330 606 1174 (youth line)
Visit nopanic.org.uk
Apps and Online Mental Health Support
Togetherall is a safe online community where people support each other anonymously to improve their mental health.
Visit togetherall.com
Kooth offers counselling and support services for young people aged 11-18 and those in Looked After Care up to 25.
Visit kooth.com
NHS Every Mind Matters has tips and other small things we can all do to be kind to our minds. There is expert advice and practical tips to look after your mental wellbeing.